For Plantation Shutters, Hardwood, Fauxwood and Composite in Myrtle Beach, North Myrtle Beach, Surfside, Garden City, Conway, and Pawley's Island, SC Contact Shore Blinds and Shutters
Plantation Shutters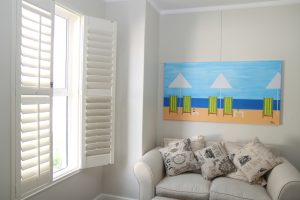 When it comes to decorating windows with beautiful plantation shutters in Myrtle Beach, North Myrtle Beach, Conway, Surfside Beach, Garden City Beach, Murrells Inlet and Pawley's Island, SC contact Shore Blinds and Shutters in Myrtle Beach, SC.
The experts at Shore Blinds and Shutters have years of experience decorating, measuring and installing plantation shutters in homes and businesses and will help you determine the best shutters for your windows, no matter the size or shape of your window. With a wide selection of hardwood plantation shutters, fauxwood or composite shutters, Shore Blinds and Shutters represents reliable brand name manufacturers, shutters styles, colors options and pricing to fit your taste and budget.
Hardwood Plantation Shutters in Myrtle Beach, SC
No window treatment adds more value to your home than plantation shutters. Shutters compliment the décor of any room, on any window. Handmade with premium hardwoods, shutters are window coverings that will make a lasting impression in your home. Available in both paints and stains, hardwood shutters are considered like fine furniture for your windows.
Fauxwood and Composite Plantation Shutters for NC and SC
If you love the traditional character of handcrafted plantation shutters but need them to work with your family's active Myrtle Beach lifestyle, then fauxwood or composite plantation shutters are for you. Fauxwood and composite plantation shutters are a perfect compliment to any room, especially high humidity locations and coastal beaches in North Carolina and South Carolina.
Plantation Shutters Recommended for Sliding Doors:
Plantation Shutters, Hardwood, Fauxwood and Composite
Yes, Plantation Shutters are versatile enough to even put on sliding doors.  Mounted on a track system, Plantation shutters can operate as a bi-pass or a bi-fold without the nuisance of strings, and plantation shutters are durable.