Custom Window Shades are an Efficient Solution with Assorted Fabrics to Compliment Your Home Interior Decor in Myrtle Beach, SC.
Shades Recommended for Your Windows: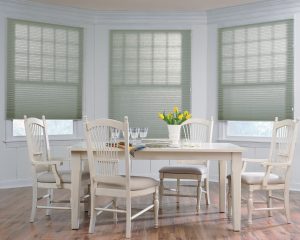 Cellular/Honeycomb Shades
Cellular (or honeycomb shades) are a stylish way to boost the energy efficiency of your home.  An attractive honeycomb design creates pockets of air that insulate windows from heat and cold to lower your energy bills year round.  Cellular shades also offer great sound absorption to quiet rooms with hard flooring.  Available in a rainbow of colors. 
Natural Woven Wood Shades
Natural Woven wood shades add a warm rich dimension to any room, whether they're hanging flat in the lowered position, or raised creating even, overlapping folds.  Natural woods are created from all natural materials consisting of reeds, bamboos, and grasses. Natural Woven Woods offer a warm look that will stay in style for years to come. 
Solar and Roller Shades
Solar shades allow you to maintain your view to the outside while minimizing glare on TV's and Computers.  These shades also protect your furniture from damaging UV rays, while reducing heat transmittance to keep your home comfortable.  Patterns range from casual to contemporary. Solar shades are an excellent choice for sunrooms and sun porches.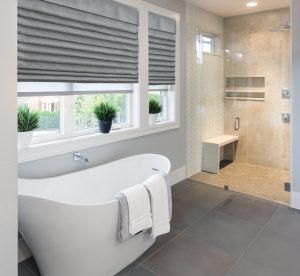 Roman Shades
Roman shades offer the softness of a drapery with the practicality of a shade.  Choose from a variety of fabric styles, colors, and textures ranging from sheer to room darkening. 
Sheer Shades
Sheer shades transform sunlight into remarkable beauty.  Suspended between two sheers, the fabric vanes offer precise lighting control.  When fully raised, sheer shades disappear into a fabric colored headrail.
Shades Recommended for Sliding Doors:
Cellular/Honeycomb Shades
They're not just for windows anymore!  Cellular/honeycomb shades can now be inverted vertically to cover sliding doors. WITHOUT CORDS!!  A reduced stack allows for maximum view.
Natural Woven Shades
Like Cellular shades, woven shades can also be inverted vertically to give you the natural alternative to vertical blinds.  Natural shades slide effortlessly on a heavy-duty track while stacking back like a fine drapery.  In addition, there are no cords to get tangled up in.
Luminette Privacy Sheers
Marrying the beauty of sheers with the privacy of soft draperies, Luminette Privacy Sheers feature translucent fabric facings and vanes that rotate for infinite degrees of light control and privacy.